Please show this coupon at each cashier before payment.
Terms of Use

|
利用条件
Available with purchase of 3,000 yen (excluding tax) or more per payment.
Acceptable Payments: Cash and gift certificates in Japanese yen, designated credit cards, China UnionPay card, Alipay+, WeChat Pay
*CANNOT be used together with Keio Passport Card, Keio Department Credit Card, and other discounts.
販売員の皆様へ
【優待種別】76 【優待付加情報】31 【有効期限】2024年4月30日
1精算税抜3,000円以上お買い上げの場合にご利用可。
支払い方法: 現金、商品券、当社指定のクレジットカード、銀聯カード、アリペイ+、ウィチャットペイ
京王パスポートカード、京王クレジットカード、その他の優待券との併用不可。
Excluded Items / Shops

|
割引対象外品
All Floors
Bargain sale items, Food, Cafés, Repairs, Order & Tailor's made, Shipping/Delivery charge, Gift cards/Certificates, Tickets, Gold currency/Metal, Charged plastic bags/paper bags
[全館]セール品、食品、カフェ・レストラン、修理・加工料、リフォーム代、配送料、仕立て料、各種ギフト券、チケット、商品券、各種証券類 (金貨・地金)、有料紙袋・レジ袋
Basement 1
Food
[地下1階]食品
Middle Basement Floor
Food, Liquor
[中地階]食品、酒売場
1F
Flower shop, CHANEL (cosmetics), ROLEX
[1階]花屋、シャネル (化粧品)、ロレックス
2F
AINZ & TULPE
[2階]アインズ&トルペ
3F
Beauty care shops (fini, Kesalanpatharan, ULTIMID, ANASTASIA MIARAY, Kaatsu Beauty Terrace)
[3階]ビューティケアショップ (フィニ、ケサランパサラン、ネイルサロン、アナスタシア ミアレ、加圧ビューティーテラス)
4F
Domohorn Wrinkle, DHC, Laundry service, Reform service, Yuzawaya (handicraft supplies & cloth), Lounge K
[4階]ドモホルンリンクル、DHC、クリーニング、リフォーム工房、ユザワヤ (手芸用品・生地)、Lounge K
5F
itoya, Miracle Reform
[5階]伊東屋、ミラクルリフォーム
6F
KUZE FUKU, Nagamochi-ya (recycled kimono shop), IWAKI GLASSES (partially), Japanese swords
[6階]久世福商店、ながもち屋 (リサイクル着物)、イワキメガネの一部商品、刀剣
7F
Maruzen (books/magazines), Games (game consoles/software), Popondetta (railway models), With-You (recycle shop), Hair salon
[7階]丸善 (書籍)、ゲーム機器・ソフト、ポポンデッタ (鉄道模型)、ウィズ・ユー (リサイクルショップ)、美容室
8F
Restaurants, Food (TOMIZ, F&F, OKINAWA TAKARAJIMA, Hokkaido Foodist), Urban Comfort by Refrepia, MINE DRUG PLUS, Massage salons, Rental costumes, Photo studio, Kaiunkan E&E (fortune telling)
[8階]レストラン、TOMIZ(富澤商店)、F&F、沖縄宝島、北海道フーディスト、アーバンコンフォート by リフレピア、ミネドラッグプラス、リラクゼーション (マッサージ他)、貸衣裳、写真室、開運館E&E
Rooftop
Gardening shop, Pet goods, Aquarium fish, Keio BBQ garden, Beer garden (summer only)
[屋上] 園芸、ペット用品、観賞魚、京王BBQガーデン、ビアガーデン (夏季限定)
*Please note that some other brands/items may be excluded from discount. Please ask at each shop.
*その他一部ブランドや商品で除外品がございます。詳しくは売場係員におたずねください。
KEIO DEPARTMENT STORE SHINJUKU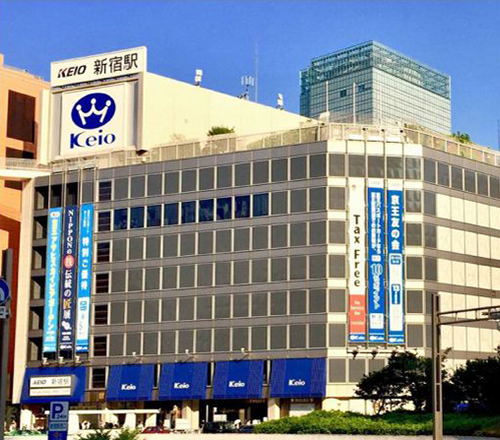 [ADD]
1-1-4 Nishi-Shinjuku, Shinjuku-ku, Tokyo
[STORE HOURS]
10AM-8PM
(8F Restaurants: 11AM-10PM)
[WEBSITE]
The companies and the products name listed on this site are registested trademark from each company. Please do not direct questions regarding specific products to TaxFreeShops.jp. Source : Keio Department Store Co.,Ltd.